Cercle Royal Gaulois (In-person)
The EU-Canada Business Summit is a oneday event held once a year in Brussels, capital of the European Union, that brings together hundreds of political and business decision-makers from Canada, the EU and the world.
08 Nov 2022
Lire plus
Embassy of Canada in Brussels
Merchants continue to follow consumer demand online, flocking to ecommerce in record numbers. Online stores are popping up daily, with an estimated 12–24 million ecommerce sites across the globe.
09 Jun 2022
Lire plus
Val d'Isère - France
The EU-Canada Alps Summit is a splendid combination of professional presentations and quality networking. This year's edition of the Alps Summit will be held from April 8-10, 2022 in Val d'Isère, France.
08 Apr 2022 - 10 Apr 2022
Lire plus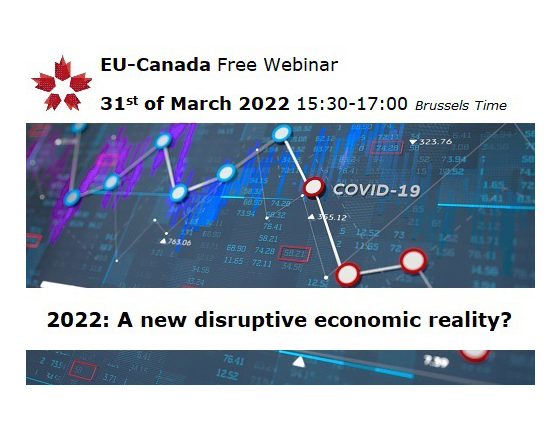 Brussels
A market disruption is a situation wherein markets cease to function in a regular manner, typically characterized by rapid and large market declines. Given the fact that we are living in a post-pandemic period that has been managed with a lot of uncertainty and never seen before extreme measures like lockdowns, substantial financial support, etc.
31 Mar 2022
Lire plus
In-person event
Le Canada et l'Union Européenne partage une histoire et des valeurs communes, un engagement à préserver et promouvoir l'ordre international fondé sur des règles et ont des ambitions communes pour l'avenir comme la collaboration sur le commerce, le changement climatique, la technologie, les questions de sécurité, les droits de l'homme et autres.
09 Dec 2021
Lire plus
Webinar
With 82.4 million people, Germany is the largest country in the European Union (EU). It ranks in the top 20 countries in terms of global gross domestic product per capita, making it one of the richest countries in the world.
22 Jun 2021
Lire plus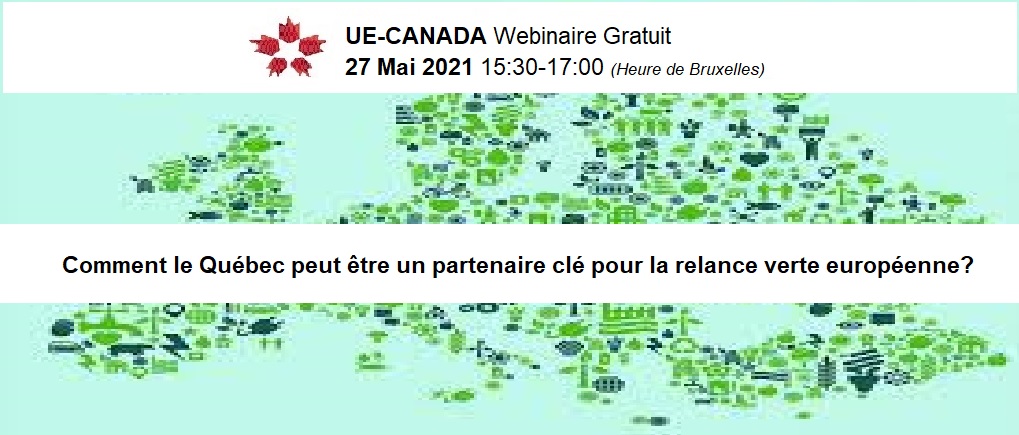 Webinar
Les législateurs du Parlement européen ont voté en février dernier l'adoption du mécanisme de relance et de résilience de l'UE, d'un montant de 672,5 milliards d'euros, débloquant ainsi un financement sans précédent destiné « reconstruire en mieux » l'Europe après la crise de COVID-19. De ce total, 265 milliards d'euros seront donc mis à disposition pour la transition verte sous forme de subventions et de prêts accordés aux pays de l'UE.
27 May 2021
Lire plus
Webinar
L'UE et le Canada mettent en œuvre le plan d'action du G20 approuvé par les ministres des finances et les gouverneurs des banques centrales pour soutenir la reprise économique mondiale et parvenir à une croissance forte, durable, équilibrée et inclusive, qui doit continuer à être examiné et mis à jour.
30 Mar 2021
Lire plus
Webinar
Le Royaume-Uni et le Canada ont conclu un accord commercial qui reconduira les termes d'un accord existant entre l'UE et le Canada lorsque la période de transition du Brexit se terminera le 1er janvier 2021.
28 Jan 2021
Lire plus
Virtual Event
Une fois par an, à Bruxelles, cet important sommet d'un jour réunit des décideurs politiques et économiques du Canada et de l'Union européenne.
30 Sep 2020
Lire plus
St Anton, Autriche
Après Chamonix-France en 2018, le prochain sommet UE-Canada Alpes de 2020 se tiendra en Autriche, dans le cadre très distinct de St Anton am Arlberg. Située dans les Alpes tyroliennes, elle est connue comme une passerelle vers le domaine skiable de l'Arlberg et est souvent appelée le «berceau du ski alpin» pour son rôle d'inventeur du sport. Ce paysage grandiose constituera à nouveau un cadre exceptionnel pour la construction de relations commerciales solides et durables entre les participants.
20 Feb 2020 - 21 Feb 2020
Lire plus
Bruxelles, Belgique
La Chambre Économique Canada-Europe – UE propose diverses conférences gratuites à Bruxelles tout au long de l'année. Ces réunions sont une excellente occasion de se rencontrer et d'échanger des idées avec des collègues du Canada, d'Europe et du monde entier, ainsi que d'entendre des conférenciers de haut niveau débattre de sujets d'actualité concernant le commerce international.
04 Nov 2019
Lire plus
Québec, Canada
CETA in a Global Context: Opportunities for Business – l'AECG dans un contexte global : les opportunités pour faire des affaires Pēteris Ustubs, conférencier Ambassadeur de l'U.E. au Canada
14 May 2018
Lire plus
Chamonix, France
Présenté par Air France, ce séminaire, qui se déroulera du 20 au 22 février 2018 à Chamonix, en France, est considéré comme une magnifique combinaison de présentations professionnelles et de réseautage de qualité. Les participants composés de hauts dirigeants d'entreprises canadiennes et européennes se rencontreront dans ce cadre exceptionnel pour nouer des liens solides et durables lors d'une activité de ski conviviale dans les Alpes françaises.
20 Feb 2018 - 22 Feb 2018
Lire plus